THIEAUDIO Voyager 14
Thieaudio Voyager 14 3… 2… 1… LIFT OFF! Named after the famed Voyager 14 deep space probe, we designed our flagship in ear monitor with the aim of stretching the boundaries to what professional monitoring devices can and should be capable of. The designing process alone took close to a...
Subcribe to back in stock notification
Thieaudio Voyager 14
3… 2… 1… LIFT OFF!
Named after the famed Voyager 14 deep space probe, we designed our flagship in ear monitor with the aim of stretching the boundaries to what professional monitoring devices can and should be capable of. The designing process alone took close to a year as we strove to research and implement driver configurations that would achieve an unparalleled level of resolution and dynamic range. Our final product has surpassed even our wildest dreams of what we hoped to accomplish, and we absolutely cannot wait to release the Voyager 14 into the world. The Voyager 14 is our team's finest and proudest accomplishment, and we are sure that it'll take you on a whole new musical adventure.
Into the Unknown
The extremely wide dynamic range we shot for required he newest of ultra-high frequency and subwoofer balanced armature drivers from Knowles and Sonion. But we also did not want to sacrifice on the timbre, and getting a full, comprehensive, textured sound meant increasing the driver numbers per channel. After many combinations, we settled on 14 BA drivers per unit as the ideal for both our technical and musical goals.
The most difficult technical aspect came with the implementation of all of these drivers to prevent phase-crossing. While many other IEM companies may overlook this essential aspect, our zero-tolerance to sound quality compromise meant months in the lab, trying out different configurations and arrangements to resolve phase issues. Our compensation procedure ended up utilizing not two, not three, not even four, but five independent crossover systems, assisted by four sound bores.
Breaking it Down
Ultra-High Frequency:
The 2 Knowles SWFK-31736 Dual Balanced Armature drivers, lays out gorgeous instrument overtones and resonance. We channeled these drivers to make for a wide soundstage, unabashedly mimicking atmosphere of the renown Beijing Concert Hall. The voice is ethereal and hallowed, smooth without lacking vitality.
High frequency:
The 2 Knowles ED-29689 Driver units were tuned to maximize the sweetness of vocals and timbre of instruments. Our intricate crossover calculation makes for extremely accurate instrument positioning and imaging. We split this channel with the mids and ultra-high frequencies and focused on a full treble range that livens instruments and vocals without piercing the ears. Several rounds of testing and adjustments ensured an engaging, yet fully comfortable listening experience.
Mid-Frequency:
The 2 Sonion 28UPA01 Dual Balanced Armatures units were selected and implemented focusing on projection and warmth. By doubling this driver per unit, we achieved fuller and richer male vocals. When we tested for soundstage and imaging, we wanted the mids to project into the auditorium. We particularly envisioned our experiences listening to viola and cello solo recitals at the Beijing Concert Hall, and tried to capture the confidence, firmness, and warmth of these instruments. Believe us, you'll find it hard to want to take these sets out of your ears!
Low-frequency:
The 2 Sonion 38AJ007 Balanced Armatures were selected as one of the newest offerings by Sonion. After trying other models and bass, we knew we had to pay the extra expenses to go with the 38AJ007. The drivers themselves are extremely fast and full of power, and sure to make your ears rumble. Then, utilizing our crossover and low-pass filter, we made a clear separation between the sub-bass, bass, and mids to reduce bleeding and make for an ultra-clean bass line. Hard-hitting, fast, impactful (it really rumbles!), and deep. What more could you ask for from bass? Dynamic driver who?
Houston, we have a solution!
We understand that musical preference is one of the widest spectrums you can find in any field. This means there is also a wide spectrum to what kind of tuning styles are enjoyed – in short, there is no such thing as an "ideal tuning". We did not want to lie to ourselves or to our customers by coming forth and saying, "we have achieved the ideal tuning". So instead, we let you decide!
Our decision to utilize a five-way crossover system lent us a unique opportunity to implement a tuning switch to increase or decrease the level of certain channels. This independent circuit mechanism means that the phase is not altered even as you utilize the switch, which ultimately means no worrying about bass bleeds or mid scooping. Our standard tuning on the Voyager reflects a true-referencing tuning for professional monitoring. The two tuning switches (we decided on two rather than three or four as more does not necessarily indicate proper implementation) allows for four different tuning arrangement going from the standard reference tuning so that the listener can select their desired sound based on their musical preference.
By giving the user the ability to select their tuning style, and by correctly utilizing this technology on a solid technical foundation, we wanted to make the Voyager 14 the one and only IEM you will ever need. We are confident that our belief in quality, sustainability, and excellence is reflected in the apex of our work – the Voyager 14.
Fits Like a Glove
How do you fit 14 drivers into an object that will go inside your ears? Well…it's not easy. Believe us.
We have a huge pile of failed shell designs that we like to look at as a reminder of our process. Some were too big. Some were too narrow. Some couldn't even fit all of the drivers inside! We went through the work of personally making hundreds of ear impressions to figure out how we can engineer a universal set that both meets the technical standards as well as a comfortable fit. Oh, and don't even mention the sound bores…With so many drivers, the crossover, individual sound tubes hooked up to the drivers, and acoustic chambers, creating the shell was an engineering feat, if not a miracle. We also tried several brands of medical grade resins to test for durability and see how they would stand up to the test of time (yellowing IEM's…we see you!).
We ended up going with a premium 385nm UV resin from Germany that is often used for medical prosthetic devices. Again, it was an extra to our expenses, but we want our beloved Voyager 14 to be something you will cherish for a long long time.
Our engineering team has worked hard to create the final housing design and each unit is handmade and hand polished to make sure your listening experience is as comfortable as possible. We redefined professional audiophile sound with the Voyager 14, but we also like to think we are redefining what bespoke is.
One Giant Leap for Audiophile-kind
Voyager 14. It is our beloved baby. So many months were put into research, design, and production and we could not be any prouder. We hope the Voyager 14 will bring the same smile to your face as it did to us when we first tried the final prototype in our labs. Enough of this. We'll let Voyager 14 speak for itself.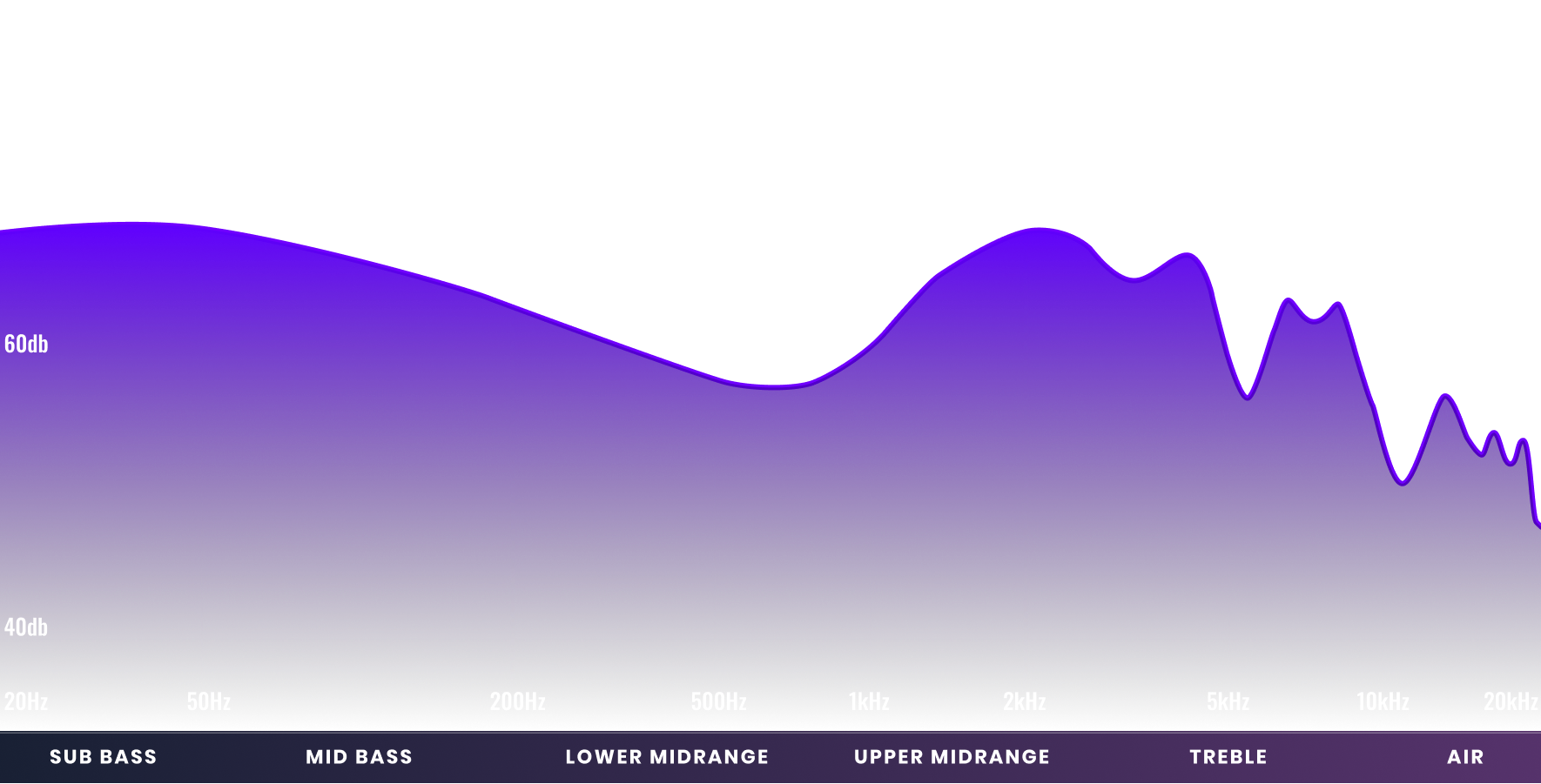 Technical Details
Drivers
Dual Knowles Ultra-High Frequency BA x2; Knowles High Frequency BA x2; Dual Mid-Frquency BA x2; Dual Low-Frequency BA x2
Driver Impedance
18 ohm @ 1KHz
Driver Sensitivity
112dB at 1 kHz
Cable Specifications
Copper and Silver Tensil Mixed Wire
Cable Plug Type
3.5mm/2.5mm/4.4mm Optional (pick one)
Shipping FAQ 
Which countries do you ship to?
We are generally able to ship to most countries via DHL Express, and many countries via Standard Shipping. You may clarify with our team to see whether Standard Shipping is available to your country.
*Note: We can only do Standard Shipping for the UK, India and Russia. We can only do Express Shipping to Africa, Argentina, Hawaii, Kuwait, Mauritius, Montenegro and Sri Lanka, to name a few.
How much does shipping cost?
We have two shipping methods - Standard Shipping and Express Shipping.
Standard Shipping is free for most countries, while Express Shipping via DHL Express is 10-35USD depending on your country. If your order is over 200USD, DHL Express Shipping is free*.
*For some countries, DHL Express is only free for orders above $239USD. Large items such as headphones (e.g. THIEAUDIO Phantom) are exceptions as well.
Shipping fees exclude import taxes or processing fees that might be applicable for your country. THIEAUDIO is not responsible for any form of such fees.
How long does it take to receive the order after it is placed?
For in-stock products, your order will be shipped within 3 working days. You may check with our staff regarding the in-stock status of any products.
Customized items will take a longer time. Please contact our staff for more information.
On normal non-sale days, once your parcel has been shipped out:
For Standard Shipping, it takes about 2-3 weeks for items to be delivered after shipping out. For some countries, it might take up to 2-3 months, depending on your country and its customs. The duration for transit is something beyond our control. THIEAUDIO will not be making refunds for such cases. Please consider an upgrade to Express Shipping or keep the waiting time in mind.

For Express Shipping, it takes about 3-7 days for items to be delivered after shipping out.
*Note: Timings might be affected due to festive seasons or other unforeseen circumstances
What happens if the parcel has been shipped but not delivered?
First, kindly contact your local courier using the local tracking number.
If your parcel were to be in transit for at least 3 months, it may have been lost in transit.
For orders below $50USD, you may either opt for a one-time reshipment of the parcel OR a full refund of the amount paid in cash via PayPal/Credit/Debit card.

For orders above $50USD, we will only process a 50% refund of your order paid in cash via PayPal/Credit/Debit card. Should there be any concern about Standard Shipping, you are encouraged to opt for DHL Express Shipping instead.
Customers are to bear the consequences and fees incurred, if the parcel was undelivered due to any of the following situations:
Wrong address or phone number provided by recipient

Recipient was uncontactable when courier company contacted

Refusal to sign for the package by recipient

Lost or damaged parcel because recipient opted for "no-signature delivery"

Refusal to pay for the local tax/processing fee by recipient

Refusal to provide supporting documents for custom clearance by recipient
Who will pay for the import tax/custom fees
Customers have to bear any form of custom/import/processing fees that are applicable for your parcel.
Should you be unwilling to pay for the fees and reject the delivery of the parcel, you will still have to pay for the shipping cost. THIEAUDIO will only refund the amount of your order after deducting the shipping cost incurred.
How do I get help for my order?
For faulty/missing items, please send an email to support@halothemes.com to process the warranty. In your email, please choose an appropriate Subject Title. Kindly include your Order Number, and state your issue clearly. Please also attach photographs/videos as "proof", if any. Our team aims to review your email within 3 working days.
For other queries, the fastest way to contact us is via our website or Discord

THIEAUDIO will not be responsible for parcels that have been damaged during the delivery process.  
Do I get tracking details for my order?
After placing an order, you will receive the order confirmation email. After your order has been shipped out, you will also receive a tracking email. You can track your order via the tracking number online. Should you not have received the emails or face any difficulties tracking your order, please kindly contact us for support.
What shipping companies do you use?
We collaborate with these courier companies:
Standard Shipping: 4PX, UBI, NinjaVan, AnserX, and Yun Express
Express Shipping: DHL Express, FedEx, and SF Express